Welcome to The Colisseum
A Sanctuary of Wellbeing
FOOT, FACE AND BODY EXPERIENCE
Get your glow on with Spring's "Top To Toe Pampering Package" designed to Relax, Rejuvenate and leave you feeling Fabulous all over.
Pedicure – With a cooling effect on your legs and feet followed by a revival treatment with the warm benefits of a paraffin dip.
60 minutes express rise and shine facial with a brightening mask.
Full body aromatherapy massage.
          R1180-00 Savings of R200.00
You can e-mail your orders to us or phone The Colisseum and speak to Tracy on 011 454-1890 or 011 024-3878.
Vela Shape III
Body Contouring & Cellulite Treatment
Now Available
Quick Results
100% safe
Quality product from Syneron & Candela
Minia De Agrela
Owner / Therapist at The Colisseum
Zita
Manager / Therapist at The Colisseum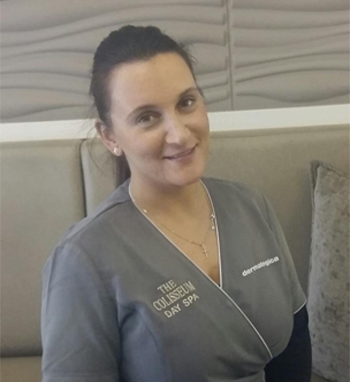 Nathalie
Head Thearapist / Therapist at The Colisseum